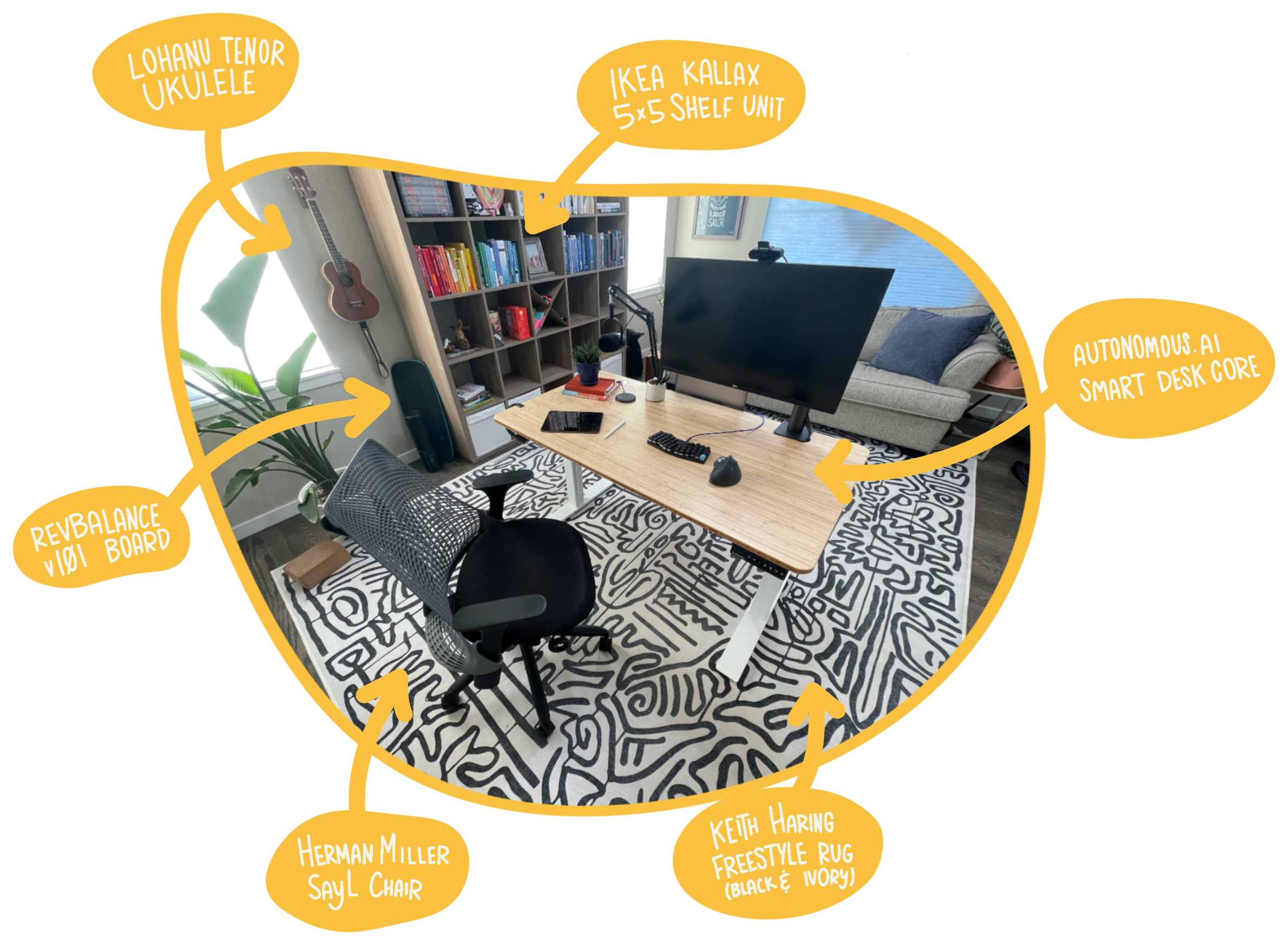 I started Working From Home in 2015 and as a result, have continually refined my office to be the ideal space for me to spend my work days.
In this home office guide, I'll share about:
My experience with workspace ergonomics.
How I made the decisions I did.
What I decided on.
When I worked at Zappos, I learned about workspace ergonomics because we were transitioning to a new office and employee comfort was a goal of making that move successful. The Downtown Move team at Zappos brought in a bunch of chairs, so I used that as an opportunity to learn about how to setup a workspace.
I thought My Desk Setup deserved its own note because it's fairly extensive.
Chairs
When I started my search for the perfect chair, I wanted to make sure I did it right because it is the most important part is keeping a healthy back. I wanted to get a chair I loved to sit in because, well, it's one of the things you do when you're working! I was willing to budget it to around $1000 for that reason...when I didn't like my chair, I ended up in worse places and I paid for it with a sore back.
For a chair, my criteria was:
something fully adjustable so I could have good posture and be comfortable
something with lumbar support
something that looked modern and classic
something I could sit in for 5-6 hours
What I ended up with...
I bought a Herman Miller Sayl ($725 with configurations) for a few reasons:
At Zappos I had the opportunity to try a bunch of chairs out when they were deciding on equipment. This was the one I liked the most for comfort, adjustability and aesthetics.
We ended up with these in meeting rooms at Zappos, so I'd sat in one for 5-6 hours for a year and some change. I don't remember what our desk chairs were, but I ended up using a Sayl at my desk because I preferred it.
There are a number of reviews suggesting people could sit in them for 5-6 hours.
I don't always trust Wirecutter, but in this case, they also said it was a great chair.
Here's how I configured it at checkout:
Color: Black/Black
Rhythm: Black
Arm: Height Adjustable Arms
Seat Depth: Adjustable Seat Depth
Back Support: Adjustable Lumbar Support
You don't have to get this chair, but it is worth the money, your butt will thank you and it will look good in pretty much any environment.
The Verdict
I bought this chair in 2015, so I'm going on 5 years sitting in it. When I was at Walmart, I easily put 40, sometimes 60 hours, a week in this chair and I can say with confidence that if I did it again, knowing what I know now, I'd still be sitting in this chair.
Why not the Herman Miller Aeron?
This is the number one question I've gotten this question from people looking for chairs. Personally, I've sat in the Herman Miller Aeron (the $1400+ sibling) for an extended period of time and I found that they feel pretty similar for long periods of time. It wasn't worth double the spend and there's no way I wanted to be sitting for longer than 6 hours.
My Physical Tools
Keyboard
I only use the KeyboardIO Atreus (Mechanical Keyboard), regardless of whether I'm at home or on the go. I don't use the MacBook keyboard at all.